The Revision of 1916
1916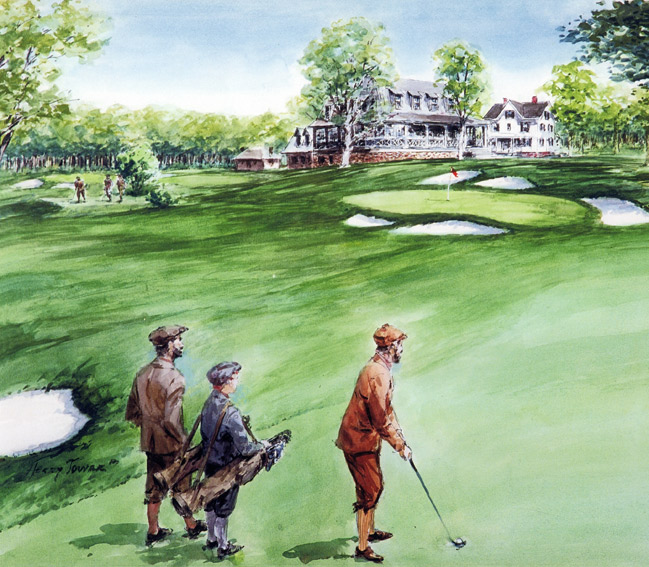 Golf Illustrated characterized the early evolution of the North Course from Jack Vickery's creation to Walter Travis' masterpiece by stating: "Soon after the start, the original nine became crowded and the course extended to a rather short 18 holes. After ten years, members complained that the (Vickery) course was too short and too easy. The club bought additional land and cleared away some of the trees to expand to 6,611 yards, tightly trapped. The bunkers were located with "fiendish ingenuity," according to one 1923 Met Open competitor."
The details of how Canoe Brook's original 5,700-yard layout grew to championship stature is well documented. The first changes took place in 1914, by which time the membership had risen to 325 and a waiting list had been established. The members considered the course outdated and wanted to expand it to about 6.300 yards, but there was very little growing room on the property. And so the club bought six acres in front of the, then, seventh green on the clubhouse side adjacent to Canoe Brook Road. This purchase allowed for extensions of the seventh, eighth, eleventh and thirteenth holes. Work started in late spring of 1914, supervised by a contractor who was eventually dismissed for poor work.
Following the 1915 season, the club found itself in a difficult situation. The unsatisfactory revision of the couse had become a source of discontent, and even embarrassment after Canoe Brook head professional Louis Tellier shot the course in 63 that summer. Some members questioned whether Canoe Brook was really a "championship course."
The Board moved quickly to alleviate the concern. The following is taken from an article in the New York Times on January 30, 1916:
"Simultaneously with the announcement of the securing of Isaac Mackie as professional at Canoe Brook Country Club to succeed Louis Tellier, the former French champion, the officers of the club have announced some revolutionary changes in the golf course at that institution which will, according the the expressed opinion of the famous Walter J. Travis, place the Canoe Brook course `second to none in the Metropolitan district.'"
In Walter Travis, Canoe Brook had secured the services of one of the dominant figures in golf during the first quarter-century. The former US Amateur and British Amateur champion had become highly regarded as a golf course designer, famously designing Garden City Golf Club, Westchester Country Club, and Ekwanok in Vermont in addition to Canoe Brook. His outsanding work in the field earned him a reputation as a `penal architect' known for very well-trapped courses.
Under Travis' plans, the first and tenth tees were to be located at the clubhouse, which would help to relieve congestion. In an innovative decision for the time, Travis architected the course to vary in length from 6,300 to 6,700 yards by placing multiple tees at each hole. At the time, a course of 6,200 yards would have been recognized as being an excellent length. When finished, the new North Course measured 6,611 yards from the championship tees and was recognized then, as it is today, as a superior test of golf.